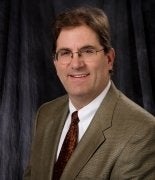 Location
Panhandle Ear, Nose and Throat Associates, LLP
3501 South Soncy Road
Suite 140
79119
Amarillo
,
TX
Specialty
Geoffrey L. Wright, M.D. Bio
Dr. Wright graduated from Tascosa High School in Amarillo and attended the University of Texas in Austin for his college training. He subsequently received a doctor of medicine from the University of Texas Medical Branch in Galveston Texas in 1981. Following a residency in otolaryngology-head and neck surgery at Baylor College of Medicine in Houston Texas, he returned to Amarillo to begin practice with his father, Dr. Norman Wright in 1986. He is a fellow of the American Academy of Otolaryngology-Head and Neck Surgery and is a board certified with the American Board of Otolaryngology.
Dr. Wright enjoys the practice of all facets of the specialty of otolaryngology-head and neck surgery. He has a special interest in the area of pediatric ear, nose, and throat disorders and diseases of the nose and paranasal sinuses.